Blue light blocking eye protection for a digital world.
Purchase in-clinic or online through our patient supply portal. Link here: portal.sleepconsultants.ca
PROSPEK blue light glasses use a patented, multi-layer coating design to reduce glare, reflect blue light away from the lens and relieve long-term eye strain caused by excessive electronic device use. This specialized coating provides:
Anti-UV
Anti-Fog
Reduced glare
Reduction of blue light
PROSPEK blue light glasses come in two types of lenses – 50% blue light blocking (For Kids) or 99% blue light blocking (For Adults).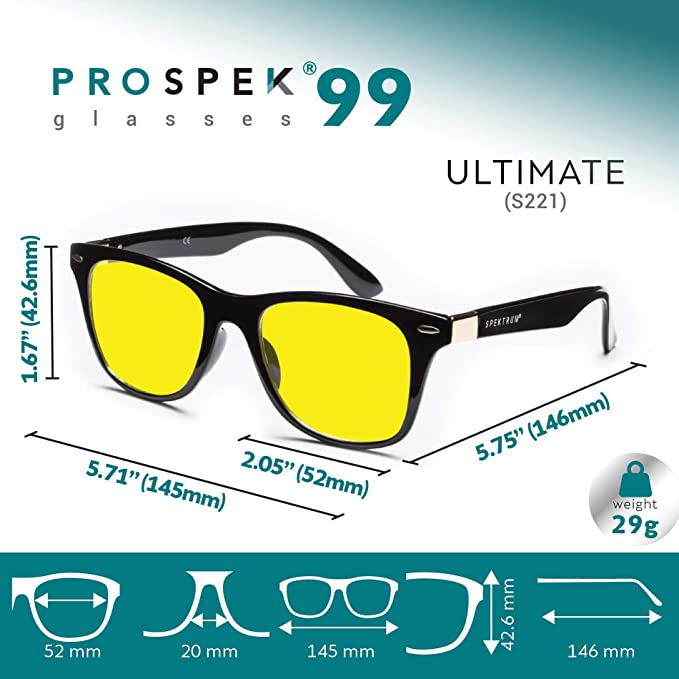 Sleep Disruption
Blue light regulates our circadian rhythm, also known as the sleep/wake cycle. Basically, it's how our bodies know when to go to sleep and when to wake up. It's not just our coffee and energy drinks that perk us up in the morning; blue light from the sun is responsible for increased energy and wakefulness. Sounds good right? Well here comes the negative – our habit of checking our emails before bed or falling asleep in front of the TV can disrupt our natural sleep patterns by unnaturally exposing us to blue light at night. Wearing blue light blocking glasses is an effective way to reclaim a good night's sleep.
How does blue light affect our sleep?
There are a lot of factors in our busy lives that can affect our sleep. Obvious things like stress over a presentation or an exam, worrying about money, babies crying or cats throwing up hairballs can cause sleeplessness or interrupt a good night's rest. What we may not realize is that exposure to blue light can be a sneaky cause as well. Blue light suppresses the body's secretion of melatonin, a hormone that regulates sleep and wakefulness. Though blue light is present in the sun's rays during the day, it is less pronounced around dusk, which is why sunsets tend to appear red. The lack of blue light in the evening allows the body to produce melatonin freely, signaling that it is time to prepare for sleep. Exposure to blue light from electronic devices or artificial lighting after the sun has gone down can disrupt our circadian rhythm, making it harder to fall asleep or get a good night's rest.
How does blue light cause eye strain?
Our eyes are not built for our modern digital world. The eye's cornea and lens aren't good at filtering HEV light from reaching our retina, the thin layer of light-receiving tissue that lines the back of the eye. Over time, this can cause damage to its light-sensitive cells. As we age, this damage can make us more susceptible to eye diseases such as macular degeneration and cataracts. Young children are even more sensitive to blue light exposure since the lens of their eyes are even more transparent than adults, allowing more HEV light to pass through.
A scientific explanation is because High Energy Visible (HEV) light has such a short wavelength, it scatters in the eye, reducing contrast and making it difficult to focus. Over time, our eyes begin to feel tired. It can also cause pain in or around the eyes, blurred vision, headache, or sometimes even double vision.